During summer, the BBQ is our go-to appliance, but come winter (unless you plan on doing some winter grilling), it's more than likely that you'll want to store your BBQ until next year.
But where – and how – exactly? Well, first of all, it's really important that you clean your BBQ thoroughly, so that come next summer, you won't risk finding mould and rust on your expensive grill.
Winter barbecue preparation
Depending on the style of barbecue that you have, there will be slight variations in the way that you need to prepare and store it. But most importantly, always refer to the manual to check the exact requirements for your particular barbecue.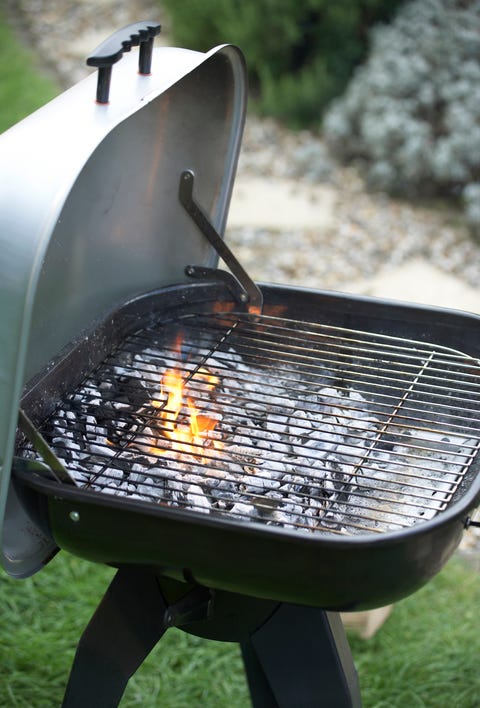 IAN O'LEARYGETTY IMAGESADVERTISEMENT – CONTINUE READING BELOW
Cook off the excess
Firing up your barbecue on a high heat for around 15 to 20 minutes will make your grill much easier to clean. It will burn off excess food leftover from cooking and make remnants easier to scrape off during cleaning.
Cleaning the inside of your barbecue
Cleaning the inside of your barbecue thoroughly will ensure it's in perfect condition. Do this after the barbecue has cooled down to a warm, rather than hot, temperature – after the previous step – as you'll find that the debris is easier to remove. A bristle free brush is one of the best ways to clean your barbecue grill or a steam brush if you prefer something a little more special. Next, let your barbecue become cool and clean it with simple soap water and rinse it thoroughly to ensure no soap residue lingers.
Cleaning the outside of your barbecue
As with the inside of your barbecue, warm soapy water is often the best option for cleaning the outside of your barbecue. If your barbecue exterior is metal, you can buff it with a dry cloth to give it a shine; you may want to do this again when taking the barbecue out again next year.
Need some BBQ hacks? Here are 10 Simple BBQ hacks you can use
Barbecue cover
It's so important to cover your barbecue when it is not in use. For the cost of a good barbecue cover, you're making sure that you don't have to replace the whole barbecue in just a year or two! You can either purchase a generic barbecue cover that is suitable for most models, or you can check whether your barbecue manufacturer provides a specific barbecue cover for your model.
Store your barbecue
Ideally, you should store your barbecue indoors (but never store propane inside) as you are protecting it from the elements and ensuring it doesn't rust or mould. If that's not possible, however, a garden shed or greenhouse would also be a good option. If you must keep your barbecue outside, try to keep it sheltered from strong winds and keep it as covered as possible such as shade cloth. When storing your barbecue, make sure that both the barbecue and cover are completely dry in order to avoid any rust accumulating throughout winter.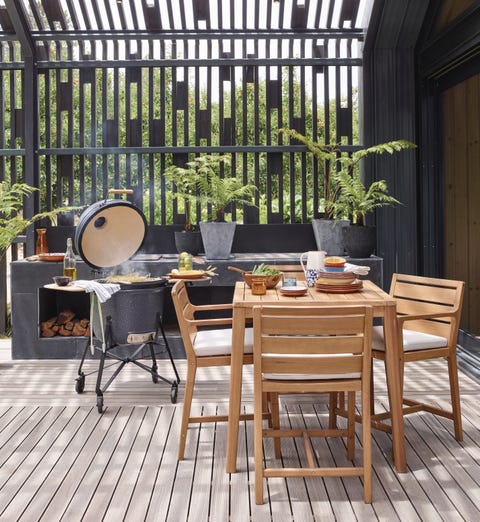 JOHN LEWISADVERTISEMENT – CONTINUE READING BELOW
Outdoor kitchen
If your barbecue lives in an outdoor kitchen with good shelter, you will find that your preparation is fairly minimal. You may even find that you can use your barbecue all year round! However, if you do think it will be unused for a few months, you should take some steps to make sure it stays in good working order. You should thoroughly clean your barbecue as described above, as this will make sure that any food and ash is removed and your barbecue is ready to go when it gets warmer. And don't forget to cover it!
Charcoal barbecue
When you prepare your charcoal barbecue for winter, your main focus will be on scrubbing the cooking grill clean and thoroughly cleaning out all of the ash. If you leave ash and charcoal in your barbecue, water can seep in and cause the ash to firm into an almost-cement which may become stuck.
Gas barbecue
For storing a gas barbecue, the cleaning process needs to be a little more thorough, as there are more components to consider and maintain. You should remove all cooking grids and burners, as well as any other components that you can remove with your particular model. These should be soaked in soapy water to remove all residue from cooking. A wire brush can also be used to scrub them with. You should never store your propane inside.
BY OLIVIA HEATH from House Beautiful